Acupuncture in Leederville
As an ancient system of Chinese healing, acupuncture aims to promote flow and wellbeing across the mind, body and spirit. This type of Traditional Chinese Medicine (TCM) may help address a diverse range of conditions.
What to Expect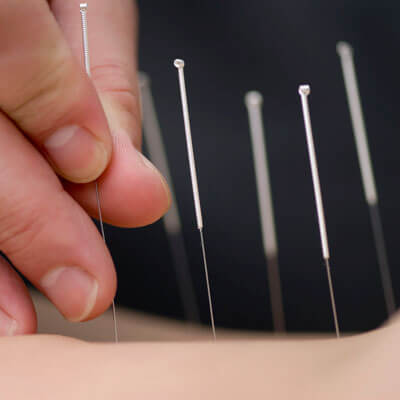 Your first appointment at Leederville Chiropractic Clinic will begin with a deep dive discussion of your health and wellbeing. Jessica Kennedy, our acupuncturist, will look at all areas of your health in a holistic way. As TCM is interested in total health, Jessica will look at the overall pattern of your health and where some of your symptoms may be coming from. Highly patient-focused, Jessica always takes time to listen to her patients' concerns. "I want to optimise your wellbeing."
She will look at your pulse and your tongue, which will provide her with more information. You then will have your first acupuncture session. Then Jessica will put together an individualised care plan. She never takes a one-size-fits-all approach. "It's all about seeing the individual clearly and what they require so their unique needs are met." If you agree to the plan, you will then move forward.
Keeping Patients Comfortable
Warm, professional and approachable, Jessica quickly puts patients at ease. She recognises that some people are anxious about receiving acupuncture. "My experience is those anxieties don't outlast the first session they have." She feels that the experience of the needling is much worse in mind than in reality. Once people have an acupuncture session, they typically don't have any more needle anxiety.
Get to Know Our Acupuncturist
Jessica obtained her Licentiate in Acupuncture in 2005 after three years of study at the College of Integrated Chinese Medicine in the UK. She is a member of the British Acupuncture Council. She moved to Perth in 2017 and is registered with AHPRA and a member of AACMA.
The acupuncture Jessica practices combines TCM with a style called 5 Element Acupuncture which is otherwise not available in Perth. The 5 Element approach focuses on looking at you constitutionally aiming to see at a deeper level what is driving the state of your health.
Frequently Asked Questions
How much does acupuncture cost?
The cost is $120 for the first appointment and $80 for subsequent ones.
How long do the sessions take?
Your first appointment takes up 90 minutes, and follow-up visits take up to 45 minutes.
How many sessions will I need?
Jessica recommends at least 4-6 sessions. In terms of spacing, it depends on what's practical for you, but she usually recommends starting with weekly sessions until you're feeling much better for that whole week. And then you would move to two weekly sessions, and then you would move to a monthly session. She will space the sessions out as the benefit of each one lasts or holds for longer — as long as you continue to receive acupuncture.
Schedule an Appointment
Experience for yourself the potential benefits of acupuncture Leederville. To book, you can call Jessica directly at 0491 647 756 or email her at acupuncture@jessicakennedy.com.
CONTACT US
---
Acupuncture Leederville, Subiaco, Mount Hawthorn WA | (08) 9444 0100